IEEXCG1 - IE A4 A5 Q5 B8/B8.5 2.0T 3" Catted Downpipe
IE A4 A5 Q5 B8/B8.5 2.0T 3" Catted Downpipe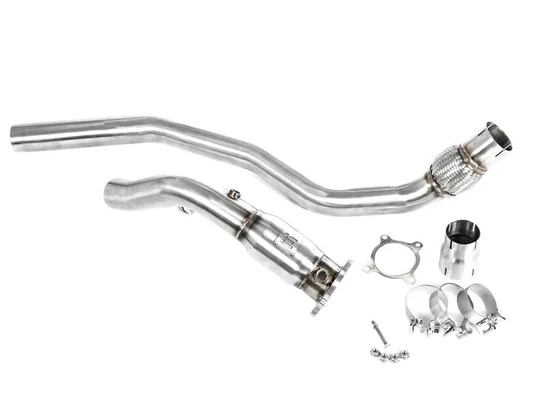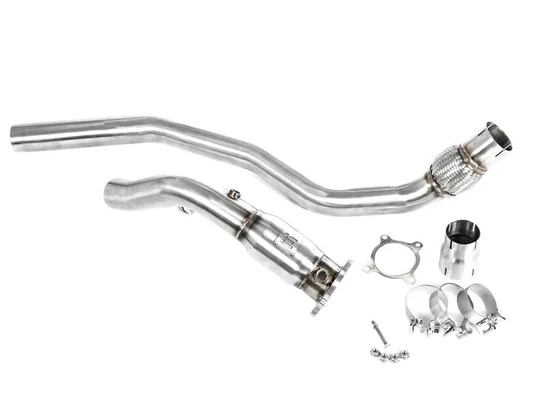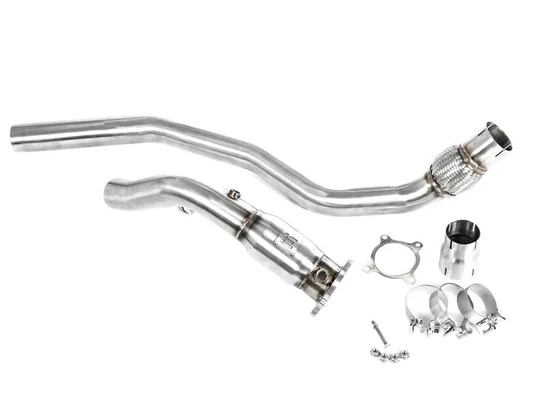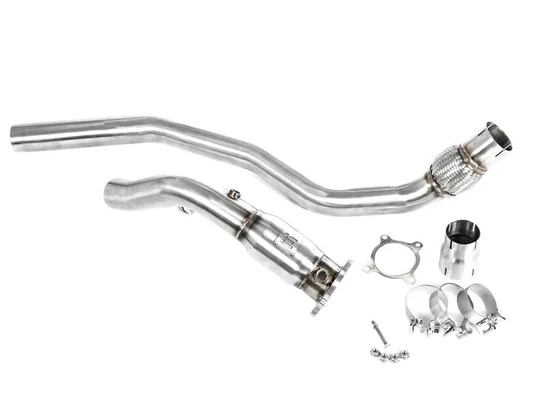 SKU: IEEXCG1
AVAILABILITY: AVAILABLE
$1100.00

B8/B8.5 2.0T RACING DOWNPIPE
Add horsepower and take your B8 A4, A5, or Q5 to the next level with an IE High-flow Downpipe and stage 2 ECU tune. The IE 3 inch stainless steel downpipe is comprised of only the best materials and quickly bolts on. It also uses a high-flow performance catalytic converter that reduces unpleasant smells and cabin drone.

UNLOCK STAGE 2 FOR YOUR B8 2.0T:
Equipping your B8 A4 or A5 2.0T engine with an IE catted downpipe delivers additional horsepower, torque, and responsiveness when paired with a required stage 2 ECU tune. These significant power gains are added through the entire RPM band by allowing the turbocharger to flow freely through the 3" downpipe, high-flow catalytic converter, and mid-pipe. Careful tuning of the added sound from freeing up exhaust flow rewards you with an aggressive exhaust growl every time you accelerate while minimizing cabin drone.
All IE exhaust systems are designed in-house using state of the art digital scanning for a perfect fit and manufactured from 1/16" thick wall 304 stainless steel offering a lifetime of performance and fun.
B9 2.0T DOWNPIPE FEATURES:
- Over 30 horsepower gains - with matching Stage 2 Tune
- 3" minimum size for maximum flow and performance potential
- Aggressive Motorsport exhaust sound
- Direct bolt-on fitment with no modifications required
- 100% 304 stainless steel pipe construction
- Machined turbo flange ensures long gasket life and no leaks
- High flow 200 cell catalytic converter for full power with reduced pollution
- Fully lined extra tough flex section will never collapse internally
- Complete Kit - includes all mounting hardware (nuts, bolts, clamps, gaskets)
HIGH-FLOW CATALYTIC CONVERTER (CAT):
IE's performance downpipe includes a high-flow 200 cell per inch catalyst located as close to the turbo as possible. Our large diameter CATs allow a very large flow area and do not limit maximum power. Enjoy all the benefits and performance of a "catless" race downpipe but with reduced emissions output and no unpleasant smells.
BOLT-ON INSTALLATION:
The IE downpipe replaces the factory restrictive downpipe and midpipe exhaust tubing and connects to the OE cat-back/muffler section. Precisely manufactured mounting results in a rattle free and life long downpipe system. IE engineers utilize 3D scans of the engine bay and chassis to ensure perfect placement and an easy install.
Installation should be completed by a professional and preferably on an auto lift. CLICK HERE to view and download the install guide.
VEHICLE FITMENT GUIDE: